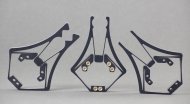 Our gripping technology shows its largest potential with custom-made grippers.
The dramatic reduction of single parts makes detailed design and final assembly much easier and allows for tailoring gripping kinematics or complete grippers to your automation task individually and at low cost. No matter whether you need a special geometry for the gripping jaws, an adapted interface to the robot or to the drive unit or a specifically optimised gripping mechanism: we create your gripping unicum in record times and at unbeatable prices.
Ask today for a quote by E-Mail.
Image: custom-made gripping kinematics
Here you return back to the overview page of the handling grippers.