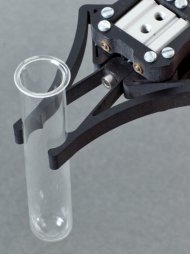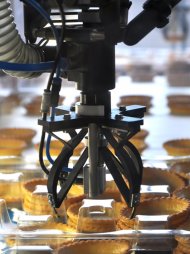 In these images you can see two of the many possible applications for integrated handling grippers: Two finger gripper with a test tube (left); four finger gripper for food packaging (right).
Compliant (or integral) robotic grippers are always a preferred alternative to conventional mechanical grippers. The monolithical design of the gripper kinematics means that it is free of play, friction and the need for maintenance. It is easy to clean and replacing it is quick and cost-effective. Depending on the desired application, other typical advantages of compliant systems can come into play, such as the minimal weight or their lack of sensitivity to dirt.
Our portfolio of products includes pneumatically driven angular grippers for various power ranges and stroke ranges. In addition to this, we offer custom-made grippers starting from a batch size of one - our deals are unbeatable.
Sample applications
HUG-gripper for tartlets
Our first compliant grippers were supplied to HUG in Luzern (producers of baked goods) in 2010. They are still providing fast and hygienic gripping and releasing of tartlets today, even after many millions of packaged units (here is the link to the video of the grippers in action).
Grabber D885 by Brechbühler
Here you see a further application of our grippers: the "Grabber D885" by Brechbühler.
Product range: gripper series
Our portfolio includes the Red Series and the Silver Series. The very lightweight grippers of the Red Series are deployed when a fast processing speed is required e.g. with the use of parallel robots (FlexPicker). The Silver Series grippers are used if a compact handling unit is to be built. These grippers are very robust and simple to combine with standardised linear, rotary and swivel units.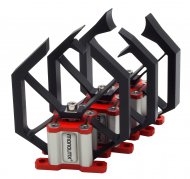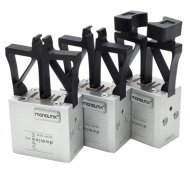 Overview of pneumatically driven, integrated handling grippers for forces from 8.5 to 95 N at travel values of 3.7 to 12.2 mm.
Image left: Red Series
Image right: Silver Series
Here are links to the product overviews and the ordering process:
The Red Series: Extra lightweight grippers for very fast processing speeds.
The Silver Series: Compact grippers. Thanks to the modular system, these robust and diverse units also integrate perfectly.